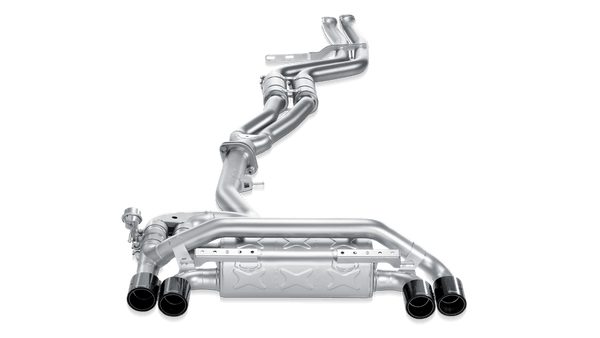 power

+7.8

 

kW

at 5850 rpm

torque

+16.1

 

Nm

at 3090 rpm

weight

-8.7

 

kg
Our Evolution performance exhaust system, made of our proprietary titanium, includes a muffler, link pipes, and resonators that run from the stock down pipes back. These link pipes feature larger-than-stock-diameter tubing and cast titanium flanges. The secondary catalytic convertors are removed, further decreasing back pressure and weight while at the same time deepening the exhaust tone and increasing power output. For the ultimate in weight reduction, tuning potential, and aggressive racing sound, we offer optional stainless steel catless down pipes. For hardcore enthusiasts. Select the optional Akrapovic sound kit for adjustable sound. Complete the look with a set of four exquisite tailpipes in titanium or carbon fibre.

When installing Akrapovič aftermarket optional down pipes with sports catalytic converters or without catalytic converters, which are developed for use on closed tracks only, remapping the ECU is mandatory. When installing Akrapovič aftermarket exhaust system that was developed for use on closed tracks, we recommend remapping the ECU in order to prevent potential »check engine light« warning signals.
THIS PRODUCT DOES NOT MEET EMISSION COMPLIANCE REQUIREMENTS FOR STREET OR HIGHWAY USE.